Andy Harris Award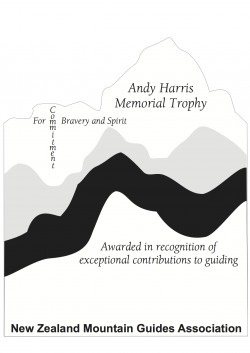 The Andy Harris Trophy - initiated by the NZMGA and Andy Harris's parents, Ron and Mary, to remember Andy.
Andy lost his life on Everest in 1996 whilst attempting to save the lives of Rob Hall and Andy Hanson who were stranded near the top of the mountain, late in the day, and with approaching bad weather.
Andy was an outstanding young man full of an exuberance for life that was infectious to those whose paths he crossed.
In 2009 the NZMGA felt it was prudent to recognise Andy, and those values he stood for, by a trophy that is presented on an annual basis for outstanding and significant contribution to guiding, in recognition of the qualities that Andy characterised - commitment, bravery and spirit.
The criteria for the award are intended to be broad-based, to ensure we remember Andy, and also recognise those guides who extol the positive values of the guiding community.
The award does not need to be given for any one particular event, or even specifically for bravery, but commitment, spirit and contribution to guiding would be recognised.
The members of the Association are asked to nominate a person each year, at the first notice of AGM. The committee then votes on the nominees and has the trophy engraved with the person's name prior to the AGM.
At the AGM a member of the committee, or delegate, will describe why the person was selected, what they have brought to guiding, and why they have earned the award. It is hoped that Andy will be remembered through the delivery of the award.
Recipients
| | | | |
| --- | --- | --- | --- |
| 2022 | Roy Smith | 2021 | Dean Staples |
| 2020 | Trev Streat | 2019 | Marius Bron |
| 2018 | Anna Keeling | 2016 | Whitney Thurlow |
| 2015 | Russell Brice and Guy Cotter | 2014 | Gary Dickson |
| 2012 | Marty Schmidt | 2011 | Bryan Carter |
| 2010 | James Hamilton and Paul Rogers | 2009 | Gary Kuehn |